Precise and dependable data entry is the spine of any company in any field. This is the area of a business where strategies are created. Even though data entry procedures aren't visual to clients, organizations are fully aware of how crucial they are. In the quickly spinning business scenario, sound data entry is an unavoidable need as it delivers meaningful data for making important business decisions. Let us understand what data entry is?
What Is Data Entry?
Data entry is the procedure of entering information from handwritten or printed copies, in a preferred format into a computer, an electronic device.
Data entry is a time-consuming and monotonous procedure. Often companies believe they can conduct the procedure in-house. They invest in team, technology, tools, and infrastructure and yet end up with faulty databases. That's because teams aren't trained in data entry and they aren't well-versed with the requirement of every field. Hence global businesses have started opting for data entry outsourcing. Let us discuss why outsourcing is a wise choice?
Why Data Entry Outsourcing is The Best Option?
We don't have to tell you what a hassle data collection from papers, images, or from the web is. The process isn't just time-consuming but also robs you of important resources that can be better utilized for your core business matters. That's when outsourcing comes to the rescue.
Outsourcing can save your time and cost. When you outsource with a professional data entry services provider, you allow your employees to focus on revenue-oriented tasks. Data solutions can be tailored as per the specific needs of the field. The skilled and professional experts ensure that the information is being entered accurately and fast. Plus it also improves the efficiency of your business. Outsourcing might have been reduced to less spending, (surely lower costs are a good benefit) but it does more than that. Let's explore the points below.
1. Data Surges Are Easily Managed
Data volumes often fluctuate. There are times when there's a huge data surge in the company. You possibly can't hire people overnight to look into the tasks. A professional company can take care of it perfectly as they are equipped with a huge number of experts. They complete the task quickly and accurately irrespective of the data volume or complexity.
2. Quite Cost-Effective
If you choose to have an in-house team for data entry, your spending costs are fixed. You have to pay salaries, spend on tools, technology, infrastructure, parks, and a lot more. Ultimately the cost of in-house data entry comes closer to the overall business spending. With outsourcing, you pay only for the amount of work being done, plus the payment is decided from the beginning. You get good quality and cost-effective outcomes within a quick turnaround time.

3. Quality Consistency
You get the same top quality outcome whenever you outsource because the outsourcing partner always ensures a global quality outcome in all their projects. They set quality standards and strictly follow them from the beginning to the end. Their diverse experience empowers them to deliver expertise and flexibility in any project they are assigned with. Plus they check the outcome to ensure the accuracy they promised you. You won't get to see the same workflow and discipline in your in-house team.
4. Let's You Focus On Your Core Business
The primary reason why companies choose to outsource is that they can focus on their core business operations. While running a business, it becomes utterly important that non-core tasks doesn't become a hindrance and take focus away from the central tasks. Data entry demands accuracy, a lot of time, and needed software & tools. So it's not wise to have an in-house team just to look after data entry rather outsourcing would be a more profitable choice. Outsourcing is a blessing when business opportunities approach and require your complete attention.
5. You Can Keep Up With the Ever-Changing Market Trends
Outsourcing provides a lot of time-cost savings and a complete focus on the business which can help your respond to the latest market trends as quickly as you want. The global business scenario is quite fierce. Any loss of opportunity will become an advantage for your competitors. Outsourcing delivers accurate data sooner than you hope. For example, if the products/services on your eStore are uploaded after competitors have done it, you have already lost a lot of potential consumers but if the products are uploaded before time, the client flow as well as the revenue flow increase just as you wish. There are so many ways in which outsourcing saves your business.
6. A Productivity Boost
You can focus on the right tasks at the right time. With data entry worries out of your way, you can carefully observe business processes and improve them as you go. Efficient business operations result in a productivity boost for the employees. Along with getting the right outcome on time, your business functions smoothly as it should.
7. Better Data Security
Organizations often worry about data breach and data misuse when they outsource. The notion has changed over time as an outsourcing partner is equipped with all the obligatory practices. Having NDA, SLA, and other essential security measures in place, they utilize the latest data protection tools and technologies to ensure complete data security.
Top Industries That Benefit from Outsourcing Data Entry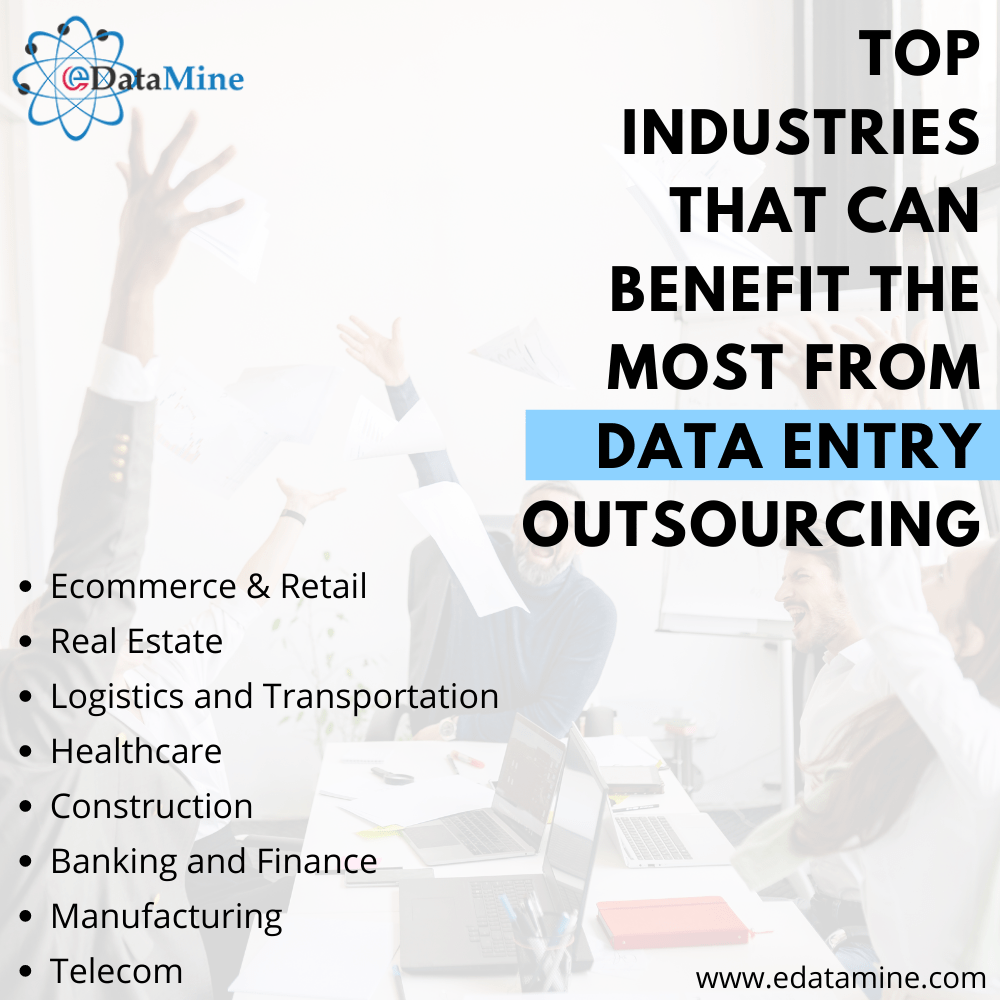 1. Ecommerce & Retail
Outsourcing enables customized eCommerce solutions to retailers across the globe. Your outsourcing partner can easily take care of complex tasks such as catalogue processing, specific category management, engaging product descriptions, pictures, and customized offers that have genuine value, market, and competition analysis, and excellent consumer support.
2. Real Estate
Real estate generates a lot of data in a day such as a buyer/seller information, property-related paperwork, legal documents, commercial and commercial valuation data, sales records, insurance & taxes, and non-commercial or commercial properties up for sale or rent. Managing all the files is challenging as it demands proper time, attention, and money. An outsourcing partner will provide you with real estate data management experts who can fulfil all your requirements to your satisfaction. The specialists with significant knowledge in real estate can help maintain data integrity and data precision, quite cost-effectively.
3. Logistics and Transportation
The logistics and transportation industry has a lot of data such as shipment records, flight routes, Cash on Delivery (COD), transportation records, courier receipts, and business inventories. All the data get efficiently gathered, organized, and secured in a database as per the client's requirements. The companies can dedicate all their time to enhancing and providing their services by outsourcing tedious data entry tasks. Plus data entry also helps with streamlined and fool proof supply chain management. Airway bills, invoices, bills of laden, and delivery notes can be managed easily. Transportation and logistics management gets dynamic load planning as quickly as they need.
4. Healthcare
So many medical forms, records, charts, lab reports, insurance claims, and legal details- related to patients and doctors require perfect data management daily. Healthcare is one of the fields that generate the most data and managing all that in-house is impossible. Data entry outsourcing becomes a boon for healthcare institutions, hospitals, and pharmaceutical corporations. They ensure quick turnaround and accurate medical data recordkeeping.
5. Construction
A data entry outsourcing company provides accurate data management solutions for property records, acquisition orders, inventory, surveys, invoice entry along with site plans, design elevations, cross-section features, structural floor plans, primary electrical plans, and other construction-related documents.
6. Banking and Finance
The data in this sector has to be managed carefully and with absolute accuracy. Outsourcing data entry projects ensures that along with other benefits. A lot of financial organizations outsource their processes such as payroll processing, streamlining loans, client input details, account updating, checks, and other paperwork. Data digitization is a priority for banks and other financial firms for smoother and paperless daily procedures. The data remain absolute secure through data protection policies.
Get good quality and cost-effective outcomes within a quick turnaround time.
7. Manufacturing
With every new venture that opens up, the manufacturing field is becoming more competitive than ever. Management of various business processes, machinery spare parts details, inventory details, and stock data are best left to the data entry experts, who can complete the task efficiently in the decided time frame.
8. Telecom
Do we have to mention the kind and the volume of the data this field gathers? Any telecom company collects millions of records daily. All the data must be gathered, classified, formatted, organized, and stored securely in a database. Data entry keeps track of subscriber records, payment records, consumer queries, and a lot more details. The Telecom field greatly depends on easily available data therefore outsourcing proves to be a beneficial choice.
By outsourcing data entry services, you don't have to bother with an extra investment of staff, software, technology resources, or infrastructure. Your organization will benefit from top quality and various data entry services. An experienced and reputed outsourcing partner ensures that the different kind of data is accurately keyed into suitable formats. Documents are prepared to provide better clarity and easy interpretation. Plus they also provide a free trial so that you can check their performance before outsourcing with them. The timeliness, superior skills, usage of latest technologies, a 24/7 client support, and assured security — data entry outsourcing offers these benefits and more. Outsource today and grow your business like you always wanted.