There was a time when the physician/doctors has to go through lengthy paper records to examine patients' reports. Imagine the life of Doctors then, anyways the services that DR do for humanity are too demanding and on top of that such a long way to do the medical proceedings.
But thanks to the Regenstrief Institute in the United States for such a major advancement that now a DR can use electronic medical records which is easy to access and maintain. These lengthy paper records are no longer used in hospitals, clinics, and other health care facilities across the globe. Also, the cumbersome documents, which were difficult to sort through and practically impossible to keep track of, have gradually been replaced by the EMR, or electronic medical records. By storing vital patient information digitally rather than on paper, it is not only easier to obtain, but also more accessible for all healthcare members. And in this blog, you will find everything you need to know about EMR, So Read-Along.
What Is EMR?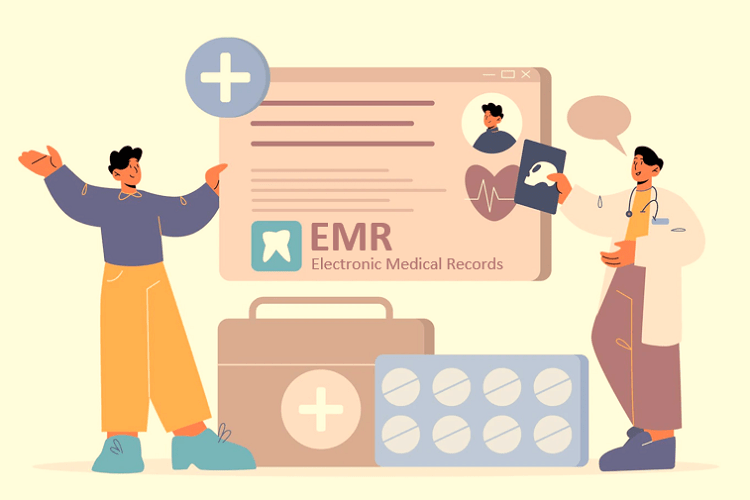 EMR (Electronic Medical Records) refers to a digital version of the traditional paper medical record.
EMR allows hospitals to replace the old record with a far more accurate and readily accessible chart that can be stored. An EMR has a plethora of data about each patient, which is available to all the hospital staff. It includes the patient's medical and surgical history, allergy information, and any other relevant information that can be utilized to make future medical decisions.
Who uses EMRs in Hospitals?
EMRs can be used by all types of clinicians, not only doctors but also by physicians and experts in hospitals to study the compile the data. And it's not just limited to doctors all other types of professionals, such as physical therapists, pharmacists, nurses, and a variety of other allied health care workers, can also access the EMR.
The best part about EMR is that with certain ease in the regulations of the healthcare system, the patient may also be allowed to view their own EMR. And when the patient can read their health care plan then it can assist the patient in their health-related pursuits. The patient may be able to access post-visit results.
Although EMRs are still not available in every hospital in the world, especially not in underdeveloped countries their usage is becoming more widespread as more healthcare, as well as common people, are getting aware of the benefit of this digital advancement. The simplicity of EMR has progressed too.
Electronic Medical Records (EMR) Market 2022 with a Stunning Growth at a CAGR of 6.9 percent, to reach a value of USD 42,818.81 Million by 2028, according to the Vantage Market Research.
Why the Healthcare Industry Should Use EMR
EMR can be a sensible approach for troublesome paper records but in reality, they are more than just a digital report. Besides all the patient's information that is digitally saved, the whole healthcare team may view necessary details, which can then influence treatment. This results in a more coordinated experience for everyone involved, as well as better patient care.
And as the patients gradually advances in their treatment the EMR report will build up in return. All clinicians in the system can contribute to the EMR, resulting in a very comprehensive and very accurate picture of the patient's health. Clinical records, hospital charting, and treatment records from auxiliary health care staff within the facility can help guide future medical incidents' diagnosis and treatment.
Why EMR is the Best? Top 7 Reasons
EMR technology is an incredible medical innovation that serves the healthcare industry in the most organized form ever imagined. Creating reports manually, reading them, passing on to various departments, and then also storing them was tedious work.
And our doctors, healthcare staff, and the paramedical team can now invest their precious time in another significant task, with no extra workload of managing paper records they are more focused and stress-free. They can now directly monitor and print graphs of parameters such as weight, cholesterol levels, blood pressure, etc. from the EMR. The EMR also helps with chronic illness management, preventive, and screening goals. So far we have been discussing the EMR in a nutshell, now let's see the most crucial benefits of having an EMR technology in the Healthcare Industry.
1. Upgraded Healthcare Quality
The overall quality of care has been improved entirely since the invention of the EMR. With EMR they can access the patient's report at once click and even the patient can stay well informed about their medical records. Just by pressing a button, they can go through a silo of data.
Moreover, with smooth transactions, EMR has strengthened the communication between primary care clinicians and other healthcare members, including specialized and supporting workers. The workflow is more efficient now and allows doctors to save time and visit more patients during the day.
2. No More Huge Buildings
Remember there was a time when there was a need to build huge hospitals and have to especially keep one room entirely for the medical records. But with EMR that's not the case anymore as one computer stores the entire hospital's data. It is incredibly convenient to store as well as operate a single PC and then manage an entire room of records.
Also, you can save years of data for a lifetime, like when a physician needs to examine previous patient records, they would have to ask the storage department and wait for days or more for them to arrive and once they receive them they have to browse through possibly hundreds of pages of information to discover what they needed. In contrast to EMRs, which are stored digitally and do not require any physical space. They can be accessed immediately, and providers may sift through information fast in one area because it is all structured.
3. Institutional Gains
Besides the immense number of growing patient records over time, these documents were also commonly misplaced. It may take days, if not months, for them to be discovered again if they were mismarked at the storage facility. Loosing patient information however momentary could have resulted in horrible healthcare issues.
Luckily with EMR hospitals no longer have to stress about losing a patient's records. It eradicates the chance of dumb negligence and keeps patient records safer than they were previously. Also, many health care workers may now view the same chart at the same time, allowing for improved continuity of care and a faster diagnosis and treatment procedure.
4. Readable Notes
Earlier only a chemist could understand a Doctors handwriting and it was a popular national joke even though it is a serious issue that can have dangerous and perhaps life-changing implications. Some horrible incidents have happened in medical history as the prescription was not read correctly, and the nurse may give the patient more medication than necessary or sometimes a wrong one.
Even a little change in prescription and treatment orders can have a significant impact on a patient's quality of life. But thankfully now prescription and written instruction from Doctors is properly spelled down and easily seen by anyone using the EMR.
Furthermore, today's EMRs frequently include pre-typed order sets that physicians may tick to notate what a patient requires, making it easier to guarantee the right drug and dose prescribed by the doctor.
5. Lesser Need for Transcriptionists
Traditionally, healthcare companies had to pay a large number of transcriptionists to listen to recorded notes before EMR. This method can take time and may not be completed accurately if the transcriptionist does not understand the physician. Also, it was expensive. However, EMR technology lowers the chance of malpractices while also lowering the expense of hiring extra workers.
6. Confidentiality of Patient's Data
It but natural that any medical staff can access and see patients' records and they can be misused easily but EMR records, on the other hand, may be safeguarded with data encryption technologies to keep sensitive personal information safe from illegal access. In a dramatic case of a Jackson health system failing to secure patients' information in paper records, the US Department of Health and Human Services revealed that its Office for Civil Rights penalized Jackson Health Systems $2.15 million because it had lost physical data. Paper records are not powerfully secured hence such things could happen and had happened in past.
7. Back up Facility
Hackers are extremely involved in the treasure trove of information contained in unencrypted medical records. By moving to EMR your organization can prevent such malware activities.
According to a data breach study for computer information security experts published by CISO Magazine, "the economic position of the healthcare industry may worsen, with data breaches predicted to cost US$ 4 billion by the end of the year. Thanks to EMR and also Healthcare Data management companies are huge help to hospitals today who are greatly benefited from Health Care Data Management as with skills professionals and tools they keep all the data safe and secure.
Conclusion
EMR is an efficient tool for the healthcare industry, can with this practice we can bring substantial benefits to both doctors and patients. The EMR helps save time and makes doctors available to more patients, gives better diagnoses, and prescribes the most focused therapies by reducing some of the bureaucratic aspects of health care.
A structured data format makes it possible to quickly obtain and use patient information. Making Use of Electronic Medical records medical staff can easily track a health history of a patient. Also, EMR systems allow patients to schedule appointments from anywhere, at any time making medical help accessible. And the feature is so great that it can send reminders to both physicians and patients.